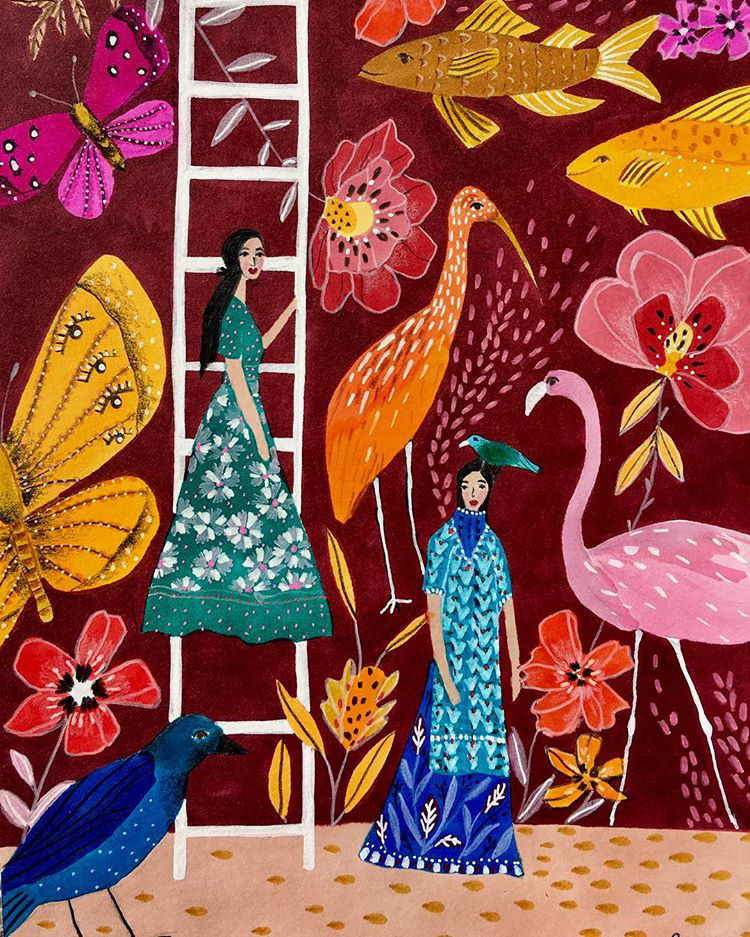 Strong Women, Arab Culture and Colorful Nature
No other artist highlights the influence and importance of women in society more than Roeqiya Fris. This Dutch and Egyptian illustrator brings her paintings to life using alluring colors, inspired by Arab culture, nature, and fashion. Today, her paintings encourage women all around the world to embrace their heritage and natural beauty.
Wether its a portrait of a woman, a pair of high heels, or a camel, Roeqiya Fris perfectly echos Arab culture. By incorporating traditional architecture, native animals, and the natural environment it's easy to see how her effortless taste is expressed through her work. 
Similar to a Frida Kahlo painting, Roeqiya uses strong shapes, colors and outside influences, especially plants as a leading force in her work. Similarly, almost all of her paintings show a woman in beautiful fabrics and jewelry. Her pieces not only express a strong female role, but also display the natural and multicultural beauty of women in different societies. 
With more than 15 thousand followers on her instagram, and a fan base on Etsy, Roeqiya is easily regarded as one of the most influential and inspiring artists of our time. Whether you want to bring some color into your home, or are inspired by her artistic message to woman, her pieces are conveniently available to purchase, and can capture the attention of everyone.
You can purchase her artwork on her Etsy account. Pieces run for about $30 to $40 each. 
Instagram: @roeqie